The Surprising Health Benefits of Clams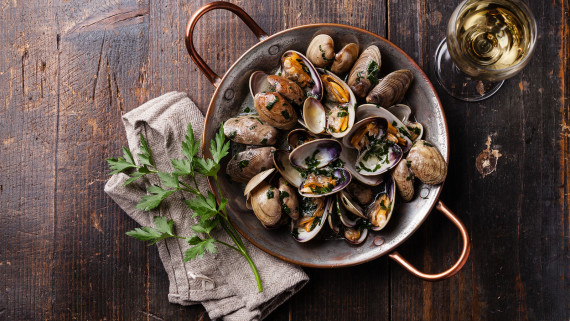 Clams are far away one of my favorite foods.  Since I got married I've been making linguine with clam sauce for Christmas Even dinner. This year my 4 year old daughter followed in mommy footsteps and fell in love with clams. So much so that my little carb lover asked for seconds of clams instead of even touching the pasta that they were sitting on top of. And even better- she's requested clams for dinner since then. I couldn't be happier about that because not only are clams fabulously delicious they're also loaded with good for you nutrition!
What's so good about clams?
They're incredibly high in iron! A 3 oz. serving of cooked clams has more or less 24 milligrams of iron. You might be surprised to hear that they pack more of an iron punch than a serving of steak!  Iron isn't the only mineral you'll find in clams though. They're also loaded with potassium, zinc, copper, manganese, selenium and phosphorous- all minerals that play an important role in keeping your body healthy and happy.
They also happen to be a great source of omega-3 fatty acids. So if you're eating fatty fish such as wild salmon once a week to keep your omega 3 intake high you can feel free to switch it up and try some clams instead! Clams have about the same protein and fat content as chicken with so many more vitamins and minerals and since you can buy wild clams in a can (even thought they're not quite as nutritionally dense as fresh!) they're easy to keep on hand to toss into a salad instead of tuna which is high in mercury. Thanks to their amino acid content they're also wonderful for repairing and building muscles. Maybe you'll make them your next post-workout meal?
How to buy them
When you buy fresh clams you want to make sure that they're tightly closed. They'll open when you cook them but if they're open before that you'll want to toss them out.
How to prepare them
There are so many different ways to prepare them. My favorite is simple and delicious. Here's my (and my daughters) favorite recipe:
Ingredients (serves approx. 4)
3 lbs. fresh clams
Sea salt
1/4 cup extra virgin olive oil
3 cloves garlic
1/2 cup bone broth
1 tbsp. grass-fed butter
3 tbsp. finely chopped parsley
crushed red pepper flakes
Directions
1- Scrub the clams under cold running water.
2- Place them in a bowl with salted water until you're ready to use them.
3- Finely chop the garlic
In a large sauce pan over medium heat, heat the olive oil, garlic and a sprinkling of sea salt and red pepper flakes until the garlic begins to soften- make sure to keep your eye on the garlic so it doesn't burn!
Add the clams and the bone broth, cover and increase the heat to high.
Let the clams cook for about 4 minutes until they're all open, shaking the pan by the handle every once in a while.
Remove from heat, get rid of any unopened clams and add the butter to the pan.
Top with parsley
Serve over pasta or even better a nice slice of French baguette to dip into the sauce.